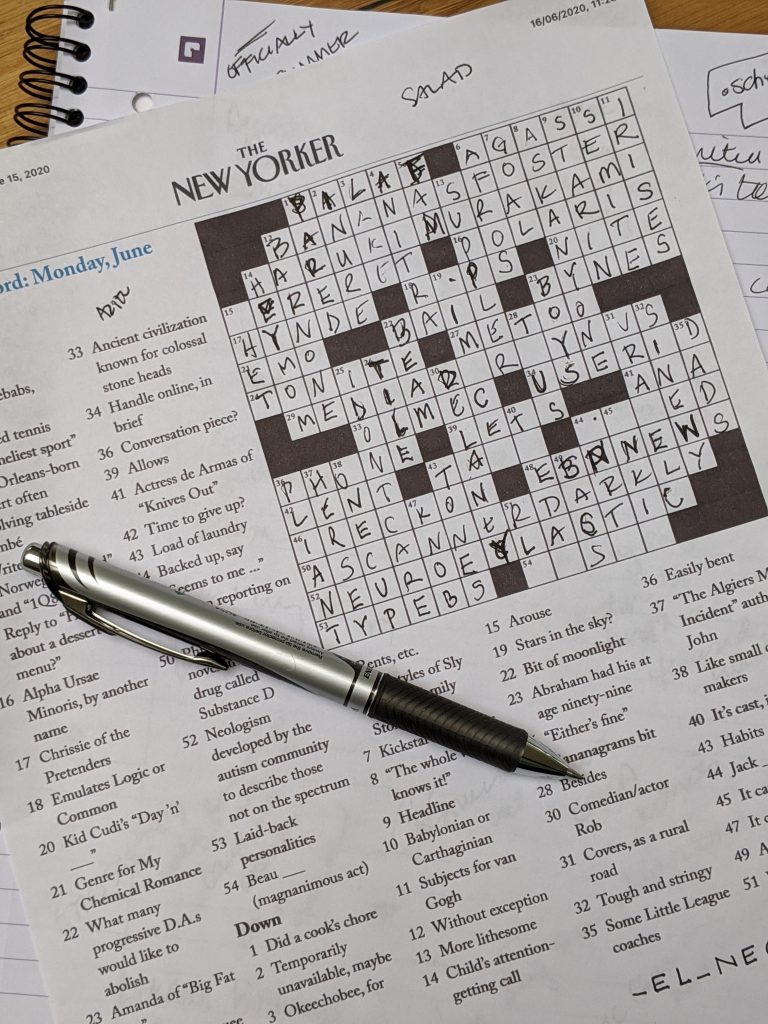 BE SURE YOU PRESS ON THE GREEN TEXT TO GET THE LINKS THIS TIME!
I fell asleep last night after doing, or rather working, but definitely not finishing a New Yorker crossword. I love doing them. And this is not a new COVID passion. My dad worked for newspapers all his life so we were lucky, in the olden days, to get a paper delivered daily. I was always quick to flip to the puzzle page to see what I could fill in over a bowl of cereal before heading off to school. When I moved to DC and my ex-husband had a job at USA Today – The Television Show, we both used to pick up our own copy of USA Today and call each other over the course of the day to give updates on whether and when we completed the puzzle racing to see who would the first to finish. If you are not into crosswords you might not have picked it up, but Mondays are always the easiest and they get progressively harder by the weekend. Sometimes a New York Times Sunday magazine crossword would sit on the coffee table of Neal's parents house for a week. They were keen puzzlers too and would leave the puzzle as much filled out as possible on the table and then when you were hanging out in their living room you could pick up the puzzle and see if there were any clues you could add answers to. It was a great way to get everyone to contribute over the course of a week. Kinda like leaving a jigsaw (which I also love) out and letting people have the satisfaction when they had a sec to click a piece in to place. I liked the community effort. It was good to feel part of the puzzle team.
I find American crosswords deeply satisfying. I clarify their origin because for love or money I have never in thirty years been able to hack the ones published in England. I don't know if it's because I'm blind to the cultural references you need to have at your finger tips to crack the clues, but American ones still make more sense to me especially with the wordplays. It is so much fun when you are doing a puzzle and you are stuggling to get into the mindset of the puzzle maker to work out what they are driving at with their trick questions often punctuated with a question mark. The mark lets you know what they are asking isn't what they are really asking. It can mean a play on the words or phrase. Once you figure out the theme hidden in the title (the NYT's ones in my opinion are the best where you find the puzzles names are clues as well) it means you gain a hint on how to complete some of the longer responses. Anyway, I like how once you tap into what the theme is you feel like you are in on an inside joke. I am probably more keen about this than I should be, but I have been know to laugh out loud in delight when I work out what the play on words is and gleefully ink in my final answer.
I find not just with crosswords but in general, I am forever drawn to words.  I love the sound of them and the feel of them working their way around my mouth, past my tongue, my lips, and across my breath.  I also like the way they look on the pages as they get drawn out from the bottom of my pen's nub.  It is nothing short of magic.  I love how words allow us to share our thoughts, ideas, discoveries, and news across the distances between us.  And I really love how different languages find similar ways for expressing the same thing.  Adore, amor, l'amour, amore…leading us back to our common roots and reminding us we are not so much different as similar. I'd love to know how the Japanese and Chinese alphabets work and the Arabic, Greek, Hebrew, Russian, too. When I see the words in these languages even if I can't read them per se, I find to me they are almost like miniature works of art.  Because I am unable to garner their exact meaning, I am left instead to simply gaze at their swirls, zigzags and flourishes while I appreciate the true magnificence of their power.  Words – human ingenuity at its best. From a scratch in the dirt to paper written, in print, in an email or text, words let us share the world with each other now and into the future. 
With words or rather their precursors, we can even look to the past. Check out hieroglyphics, time travel, and find the ancient stories and histories of the Egyptians. I mean how cool is that?
I often wonder when they were translating the Rosetta Stone, which they used to learn hieroglyphs, if there was any humour therein. It transpires the stone is a decree hailing Egyptian priests loyalty to Ptolemy which I'm guessing is not ripe for humour. I'm sure a lot of effort went into chiselling out the characters into stone in three languages (thus the stone being the key to translating hieroglyphics) and those "writers" were probably saving their efforts for more weighty subjects like laws and decrees but still, wouldn't it be fun if their innate sense of humour had them chip out a little inside joke or two somewhere on the stone? Just to mark it with their humanity?
Speaking of leaving a lasting mark, I heard schools these days, as they fizzle out the academic year that was 2020, are encouraging kids to put together time capsules to mark this year so we can remember what it was like in the future (like we are ever going to forget it). The time capsules will provide a snapshot of the 2020 experience – a thumbnail sketch if you will. I can't help but wonder what they are throwing in there? Masks? Unused GCSE exam papers (in England they must've printed them before they were cancelled, right?). Of course, hand sanitizer, rainbow drawings, and pictures of the hirsute masses missing their haircuts as well as recordings of over-computer conversations like "Can you hear me now?" "You need to turn off your mute". How about unused diaries/calendars with pages left empty or scratched out cancellations? Please, please let them include a dejected Trump meme post his Tulsa rally when he was easily outwitted by America's teenagers fooling him he'd have a full turnout of followers only to be met with a near empty stadium! Oh, oh and there's gotta be a copy of the US Comedian Sara Cooper's lip-synching of Trump's words routine.
Finally, can I request with tomorrow night's worldwide Hamiliton premier on Disney+, they don't forget to include the Holderness Family singing their revised lyrics to the Hamilton tunes…"I am not throwing away my mask"!
Yup. There's some good stuff out there at the moment to put in the time capsule.
I particularly enjoyed Julie Nolke, a Canadian comedian's Back To the Future style interview pretending to have a conversation with her past January 2020 self at the height of lockdown. She has fun only loosely sharing information "because of the butterfly effect" and keeps her viewers laughing with her bemused insight into our predicament.
Just like the words, humour might be a bit cultural or generational dependent, yet, the desire to communicate with some humour is universal. I'd argue some of this newer stuff might have been inspired by some of the old classics – one of my particular favourites which can't help but come to mind with his passing is Carl Reiner's Dick Van Dyke Show. He died this week at the age of 98 I hope feeling fulfilled with having left a mark, as indelible as the Rosetta Stone carvings, on the way we laugh. If you are not familiar with the show suffice it to say most of it was just funny observations about stuff we do day-to-day for family and work. There's nothing cutting or mean in it just good old-fashioned silliness – more my taste than his work with Steve Martin in The Jerk closer in charm to the All of Me film he wrote. Of course, there is also the inheritance of sharing that good humour with his son, Rob Reiner, who among other works directed one of my all time favourite films, When Harry Met Sally. In all of the comedy, the whole family always seemed to be in on the joke not forgetting it was Carl Reiner's wife/Rob Reiner's mother who famously spoke the line, "I'll have what she's having".
That being said, I hope soon we will all be doing as my own mom always encouraged us to: laugh with but not at each other. However, as often happens in times of stress, some of the best laughs are to be had right now, hopefully helping to keep us sane as we hold on for better times. So I will leave you with this because as they say, "a picture is worth a thousand words" and this one is too good not to share: